minute read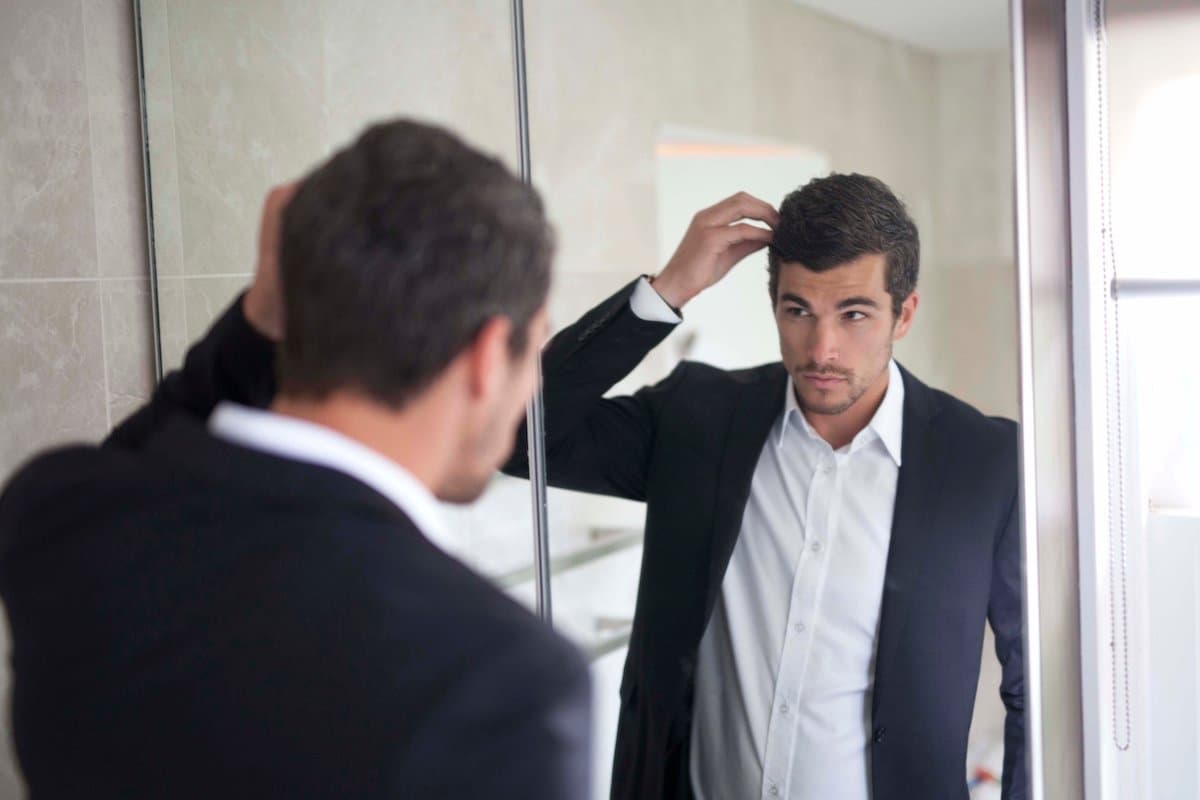 Going bald is never an easy pill to swallow. The backward march of a hairline can cause cold sweats in even the most unshakeable men. It's easy to think that a thinning mop marks the death of your ability to be stylish or desirable, but it's important to not fall prey to this line of thinking. There are several options to keep you looking suave during your hair loss treatment journey.
The key thing here is to avoid stubbornly sticking by old habits for treating hair loss. As your hair changes, you need to adapt to it. Being an inexperienced self-groomer is no excuse, get to googling and start learning.
The general hair rule for balding men is to keep it short. Avoid 'clinging to scraps' as Elaine Benes would put it. Growing the little hair you have longer will not counterbalance bald patches, and instead only exacerbates the problem. Moreover, for the love of god, do not attempt a comb-over unless you're a masochist who enjoys being snickered at.
Here is a basic list of the best hairstyles for men experiencing hair loss. Use these as inspiration to give yourself a look that makes you feel comfortable and confident.
1. The Pompadour
If you're starting to develop that island of hair at the front of your hair or a thin crown, opt for the swept-back look. It's a fairly simple style. You just grow it longer on top, trim it short on the sides, and brush the whole thing back.
If you're thin on top, brush the whole thing straight back. If you still have some volume, feel free to give it a small part (like in the picture above).
How short should you go on the sides? That's up to you. Keep in mind, however, that shorter hair in dense places will help create the illusion of density in thin places. When you allow some light to strike your scalp in a dense spot, the thin spots don't look so thin.
When you style your pomp, use a hair dryer to bend it back. The air also gives your hair some volume. You don't want it to lay slick. There should be some bounciness to it. Use a dry paste to control it. Do not use wax or anything that makes it appear wet.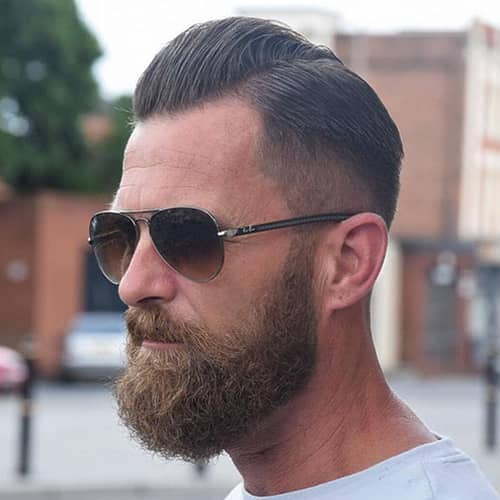 2. The Short Mohawk
As you can see, this isn't the typical punk rock mohawk. It won't turn heads and doesn't require much work, but it's great for guys struggling with thinness over the top of their head. It's the last stop before you buzz it off or shave your head.
This style won't hide a thinning hairline. It will completely expose any space or patchiness you have going on up front. However, it's tight and clean and looks more like a style than a lack of options.
If you opt for the short mohawk, keep your sides nice and tight to make the top look thicker. Use a bit of paste to give it volume and stand up a bit. Like always, don't let it look wet.
This style pairs great with a short beard. A beard gives you back some of the face-framing you lose with a weak hairline.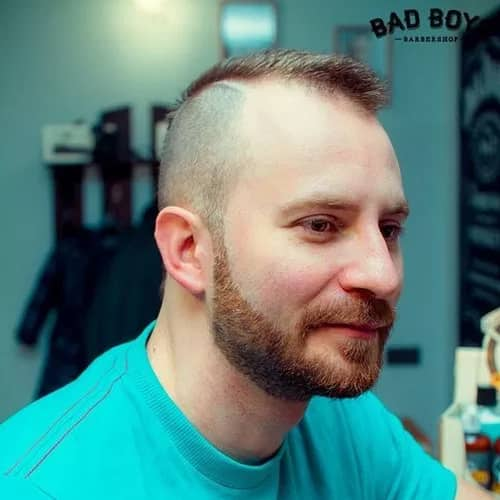 3. The Combover
There is a right way and a wrong way to do a combover. It only works if you still have a decent amount of hair.
Take a look at the photo below. A lot of women and guys who don't struggle with hair loss wouldn't say that bloke is balding, but he's losing his hair. His temples are receding, and he's lost some volume across the top. He hides it well by growing his hair about ten centimeters and sweeping it to the side. Be warned: This isn't a style you can maintain forever. At a certain point, it's obvious that you're losing your hair and using a clever style to hide it. Once your hair loss reaches a point where you can see the scalp through your combover, switch to a new style.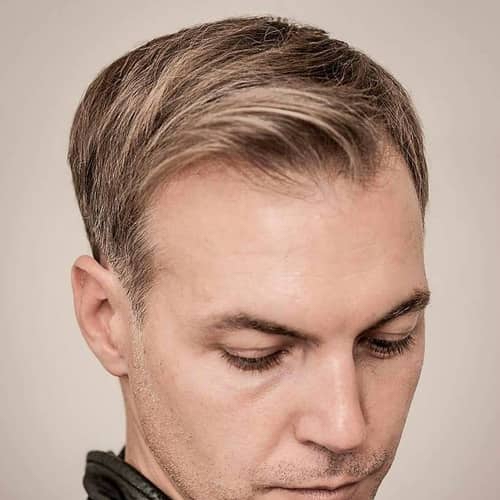 4. The Buzz Cut
A buzz cut is a versatile solution for hair loss. It looks good on guys with various degrees of hair loss or recession, and it's easy to maintain. You don't need to visit a barber. You can cut yourself with a pair of $30 clippers from the pharmacy.
This hairstyle looks good if you've lost most of your hair...
Frankly, this is one of the most liberating hairstyles for guys who are losing their hair. It's a great way to get used to seeing the shape of your head in the mirror. You can still take steps to recover your hair, but this style will help you become more comfortable with yourself.
This style has the added benefit of a rugged, masculine edge. Stars like Bruce Willis, Billy Zane and Jason Statham rock this style with gusto.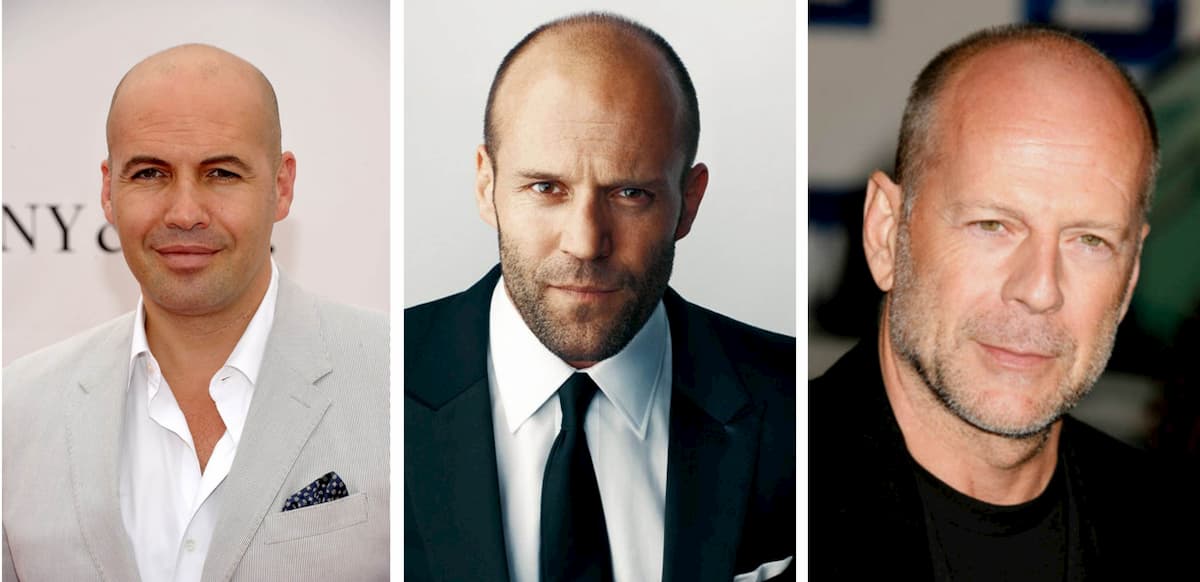 5. Brushed Forward
If you're dealing with thinning at the front, you can create the illusion of density by growing it long on top and pushing it forward. With a bit of thickening paste, you can give your hair a waiting look, like the picture above.
This will remove some of the density from the crown of your head, so it's not the best hairstyle if you are thinning at the back. Moreover, like most of the hairstyles on this list, you will want to keep the sides short to make the top seem thicker.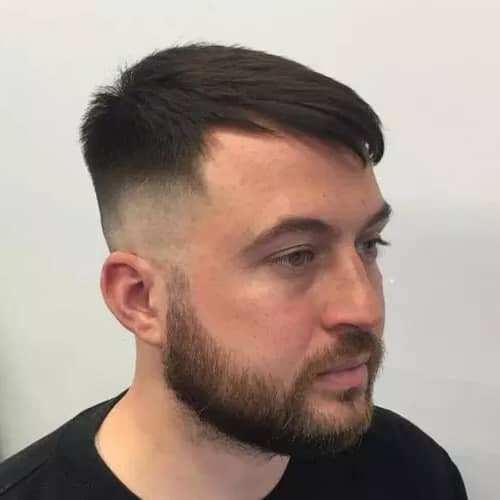 6. The Finger Length
This type of hairstyle is unique because it's somewhere between "yes, I know I have hair loss" and "I'm not ready to part with my hair."
For this style, you cut all of your hair as long as two or three fingers are wide. This gives you enough length to style your hair a little bit, but not so much that you can use it to disguise your hair loss. It's a great style to "connect" sections of hair that have become separated by gaps.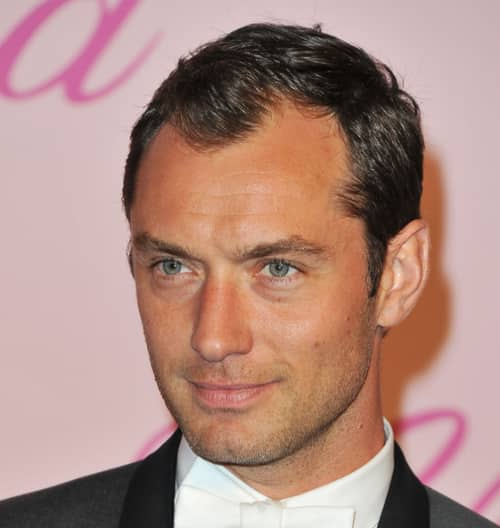 7. The Shave
At Mosh, we like to help guys halt their hair loss, restore their hair, and live the life of their dreams. But there are plenty of guys who don't want to chase a trendy hairstyle. They are perfectly happy living a life without hair. If you're in that group, the shave might be for you.
Special styling? Nope. Get yourself a sturdy straight razor and plenty of razor blades. Stubble becomes visible quickly, so you'll end up shaving every third day or so. You'll get good at shaving your head pretty quick, so it won't take long in the morning.
Any products? Nope. However, you'll want to invest in sunblock or a hat for sunny days. Sunburn on your head is no joke.
Taking a razor to your head takes balls, but on the right man can be an eye-catching, signature look. Think Patrick Stewart, The Rock or Pitbull.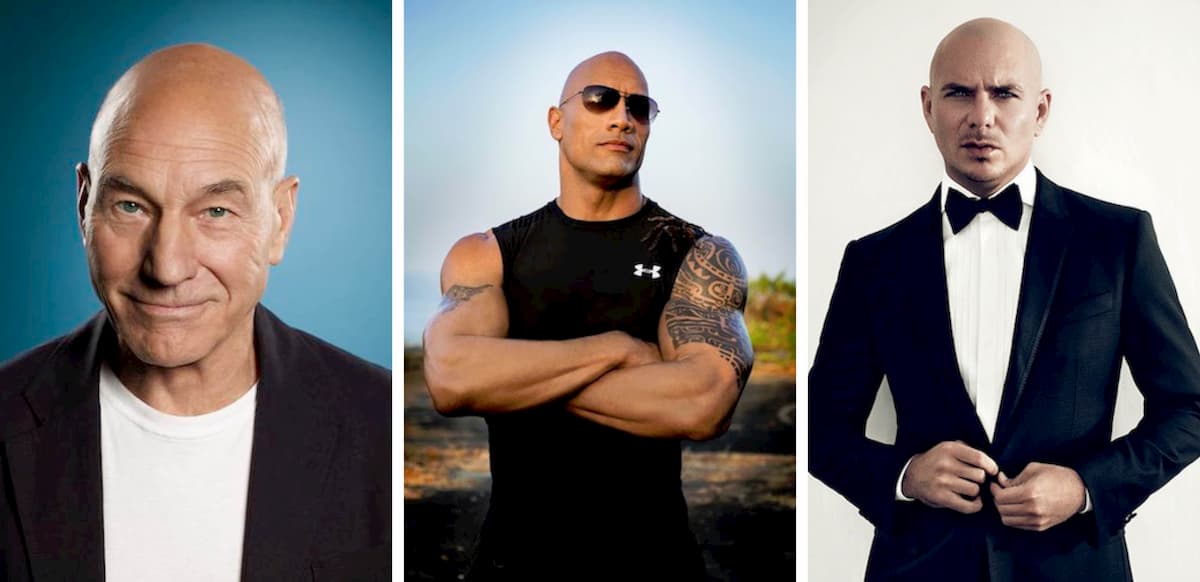 8. The Short Back and Sides
If you're not quite ready to bare your scalp to the world, this is a classic hairstyle that suits almost anyone. Don't be afraid to get messy: an artfully tousled mop is often the best way to hide those sparser patches. To add volume, get familiar with your blow dryer and hair paste. Avoid hair gel or mousse: the wet, heavy look is passé and unflattering.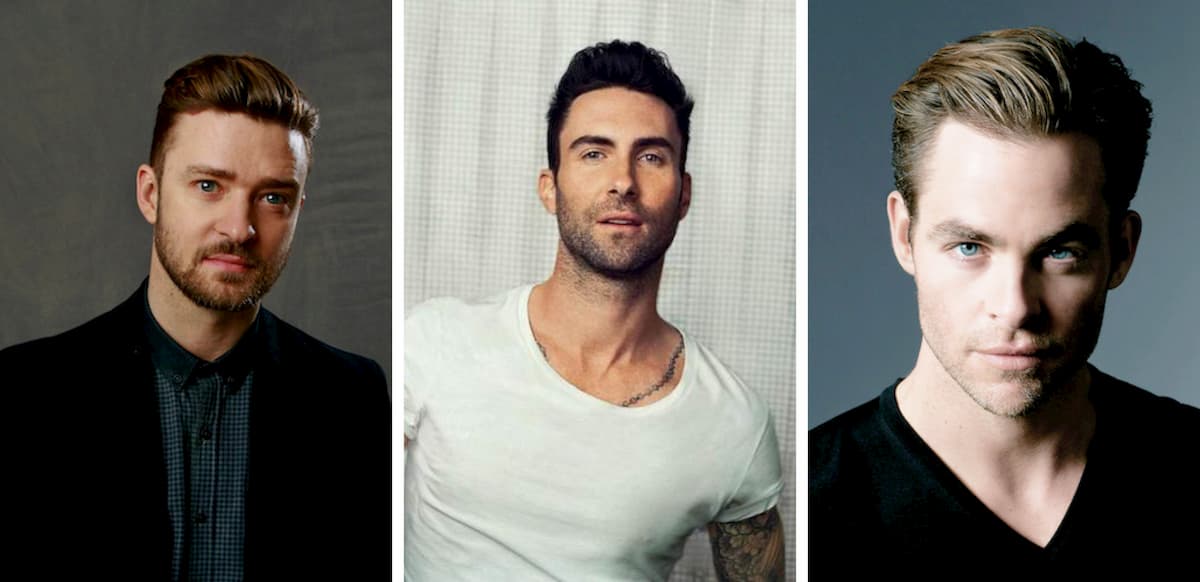 9. The Undercut
Over the last few years this haircut has become the default hairstyle for Gen-Y hipsters, but don't let that deter you. This edgy cut is basically the short back and sides turned up to 11, and does require a bit more upkeep to keep looking fresh. The contrast between the cropped sides and the longer coif on top is a perfect distraction from a creeping hairline or widow's peak. Celebrities who have sported this look include Colin Farrell, Brad Pitt, Justin Timberlake and recently Cillian Murphy in Peaky Blinders.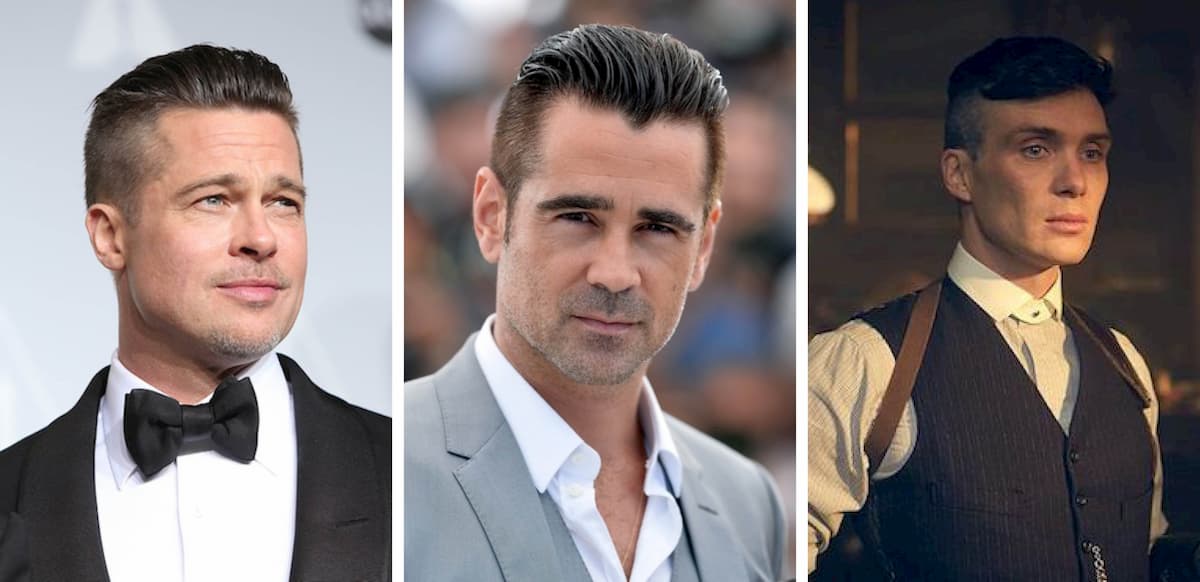 10. The Fringe
A fringe can be a great way to disguise thinning hair or a receding hairline. Be warned however: this boyish look doesn't work on everyone and is generally more suited to men on the younger end of the spectrum. Again, avoid heavy-duty products that are gonna weigh down your locks and make your thinner areas look even more conspicuous.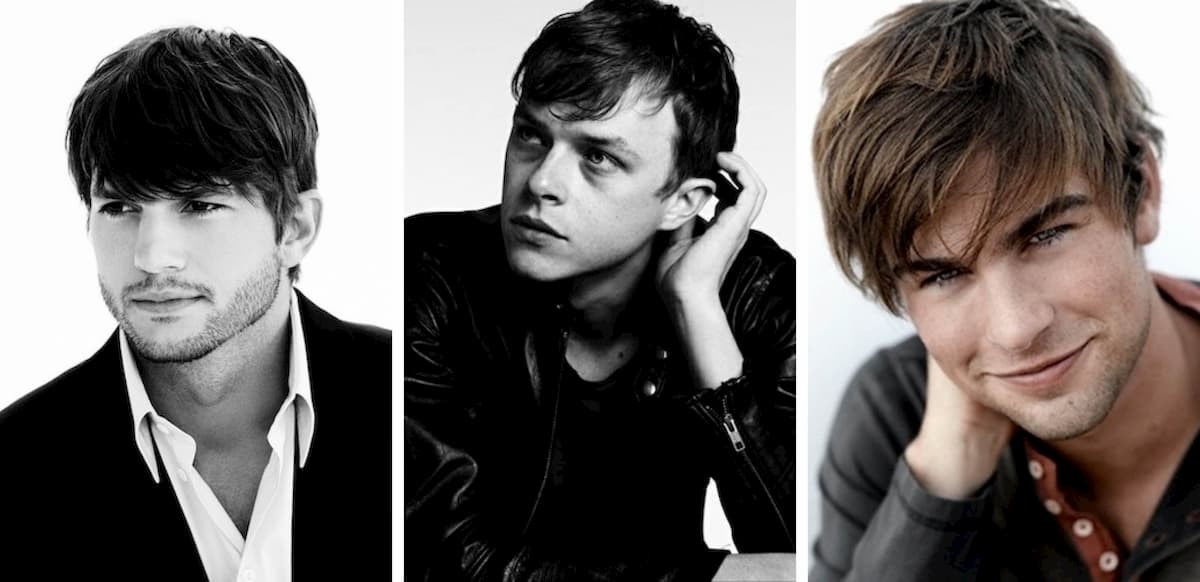 Frame Your Face with a Beard
A hairline has the unique ability to create a frame for the face. It creates a barrier so they eyes don't keep floating up when we look at someone. When we lose our hairlines, however, that barrier fades as well.
This is why you might notice people looking at your hairline or the top of your head as you go bald. They don't think you're odd or unnatural. There's just a lot of real estate up there to see!
A powerful way to recreate that effect is to grow some facial hair. Even though the beard sits on the lower part of your face, it still creates that frame (at least partly) that anchors people's eyes.
Fortunately, you don't have to grow much. A little stubble around your chin and jawline is enough to create the effect.
However, beards are in these days! If you can grow a bushy beard, consider using that as part of your identity.
Your Style, Your Choice
When it comes to choosing a hairstyle, the most important variable is how you feel about yourself. You don't have to wear what everyone else wears, or what a stylist tells you to wear. Focus on the look that makes you happy; the one that makes you feel confident and ready to seize every day.
P.S. Mosh doesn't just provide the best hair loss treatment programs; we also specialise in online impotence treatment medication programs, click to book your free ED consultation with a doctor, get started today.