minute read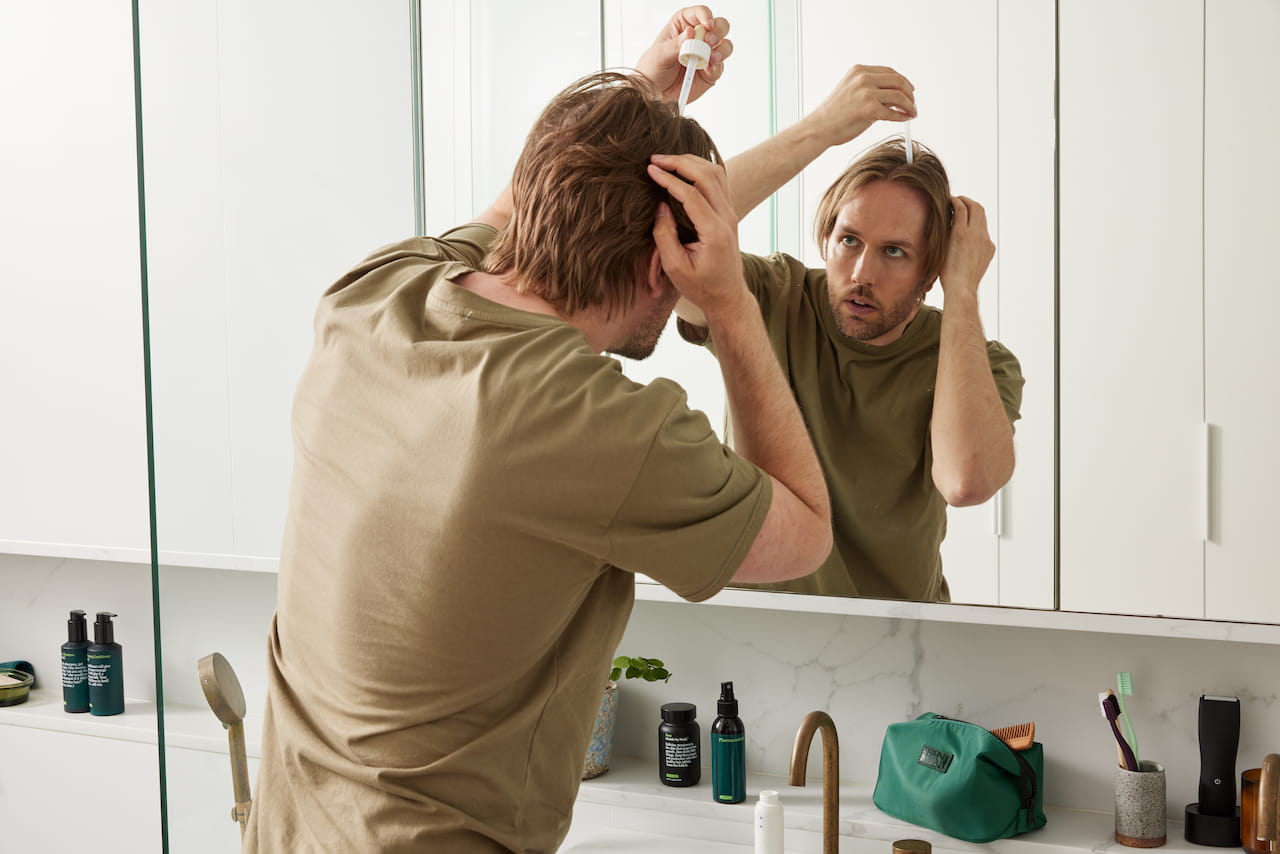 Get real answers to questions like "Does minoxidil work?" from Australian doctors on our online platform.
We at Mosh are passionate about everything related to men's health. Whether it be vitamins that nourish your hair or hair loss treatment that promotes natural growth, you will surely find the best solution with our special services.
We understand that not all men have the same needs when it comes to hair treatment. For this reason, we apply personalised methods for your specific situation. Instead of giving you the generic brand solution everyone sees online, the doctors at Mosh will give you medication for hair loss that is tailored to your needs. Your dedicated Aussie doctor will find the right treatment for you and provide you with free ongoing medical consultations so you're never caught out.
Any hair loss doctor from our online hair loss platform is dedicated to giving you the best treatment we can offer. We have partnered with top independent doctors from Australia. We have hired them as contractors and not employees – which means that they are not incentivised by us to act or perform a certain way. Instead, they work freely and are not subject to unjust prescription quotas. 
With our trusted doctors and online model, patients can ask questions without the fear or awkwardness associated with a physical hair loss clinic. Here, queries like 'Does minoxidil work?' and 'How to stop hair loss?' can be answered professionally based on medical evidence. Additionally, concerns about other complex topics such as minoxidil Australia side effects and saw palmetto hair loss can be voiced out transparently. 
Regardless of your specific situation, Mosh is here to help. Sign up now so we can analyse your medical history, give you the opportunity to consult with a real doctor online, and have our quality products delivered right to your doorstep. 
Is minoxidil effective for hair growth? 
After some research about hair loss, you might wonder, 'Does minoxidil work?' Here are the answers explained in plain and simple language for you to understand the effects of minoxidil or Rogaine (its brand name) on men with baldness. 
First, it is important to understand how hair loss, thinning, and baldness typically occur. Studies have shown that DHT or dihydrotestosterone is one of the main culprits in hair loss.[1] At an early age, this hormone allows you to grow and maintain muscle mass. However, once there is an abundance of DHT when you grow older, it attaches to follicles on your scalp and causes them to contract. Ultimately, this leads the once-full head of hair to shed and thin over time. 
Now that you know how DHT affects the body, you can better understand the effects of Rogaine on hairline. Minoxidil, the active ingredient, is sold in the form of a topical liquid and usually has the brand name 'Rogaine'. This drug generally affects the body by making the blood vessels wider – causing more nutrients such as oxygen to reach the skin on the head. As a result, the DHT hair follicle contraction process is slowed. 
Here's an important thing to remember though: minoxidil could cause increased hair loss before the actual hair regrowth begins. Don't freak out if this happens because this is just a phase. Your hair will grow back again. 
If you have specific concerns about your situation, you can consult with one of our AHPRA-registered doctors. Through these consultations, our doctor can recommend products that are suitable for your condition. Rest assured that your overall safety is our top priority. 
How to apply minoxidil for hair growth? 
After studying our answers to 'Does minoxidil work?' you can now choose to apply the topical solution to your head.[2]
Start by drying your head – making sure that each strand and portion of the scalp has no wet parts. At this stage, you do not have to wash your hair with shampoo and conditioner before each application of minoxidil. 
Next, fill a dropper or pipette with the appropriate minoxidil dosage amount. Be sure not to go over the recommended mark as this may lead to unwanted rogaine side effects. 
Afterwards, drop and rub the topical solution onto the topmost portion of your head. You can partition out your hair and scalp to evenly distribute the minoxidil. Start from the peak of your head – slowly working your way down to the sides. Remember to do this daily or twice daily depending on the directions on the bottle or the instructions given by your doctor or pharmacist. Consistency is key.
Lastly, pair this medication with healthy lifestyle changes to make the most out of your minoxidil hair growth. Avoid sugary food, exercise or perform physical activities, and get enough sleep for the best rogaine results. 
Want to know more about minoxidil? Just sign up at Mosh, and we'll have you consult with doctors for a more personalised treatment plan. 
How long should I use minoxidil?
Minoxidil is a solution that needs to be taken all the time for it to be effective. Generally, it takes about three to six months for progress to begin.[3]
If you skip a day, then the growth process may take longer or even slow down. Not all bodies work in the same way. That is why the safer and more beneficial option would be to talk to a trained professional in the field of men's health – specifically, a doctor for men's hair regrowth. 
Stop searching, 'Does minoxidil work?' online and subscribe to our service today. Get live advice online from an Australian doctor and also enjoy the added benefit of having our products shipped to your home. Effortlessly set up your subscription, consult with our expert team of doctors, and have automatic refills as needed!