minute read
It seems too bizarre to be true, and yet there it is, all over our newspapers, TVs and social media.
The coronavirus pandemic is messing with the line between fantasy and reality, leaving some of us feeling like we're fictional characters in the movie Contagion.
There's a mountain of information constantly bombarding us, and, on any given day, we can easily slide from thinking 'she'll be right' to full blown panic. So, how do we calmly and collectively weather this storm?
Turning your phone off and taking a beer down to Bondi Beach is tempting, but what's more responsible is knowing the corona facts from fiction and learning how to calmly adjust to our new – albeit temporary – reality.
So, let's arm you with the facts and give you some trusted sources of information.
1. What does the COVID-19 virus feel like?
According to the World Health Organization (WHO), Centres for Disease Control and Prevention (CDC), and Health Direct:1,2,3
The most common symptoms of COVID-19 are fever, dry cough and shortness of breath. Some people may also have tiredness, aches and pains, nasal congestion, runny nose, a sore throat and diarrhoea. This chart compares COVID-19 symptoms to those of other common viruses:
For most people, COVID-19 symptoms are usually mild and begin gradually. It's also possible for some people to become infected but not develop any symptoms or feel unwell.
About 80% of people who contract COVID-19 will recover from it without needing special treatment.
Around 17% of people who get it will become seriously ill and have difficulty breathing, which could develop into pneumonia.
Older people and those with underlying medical problems like high blood pressure, heart problems or diabetes, are most at risk of developing serious illness. For these people, recovery may take weeks, and in severe cases, could be fatal.
COVID-19 is not an 'old person's disease'. In fact, as at 21 March 2020, the highest number of confirmed cases were in the 30-39 age group.
Source: Australian Government Department of Health, 21 March 2020
How does the virus spread?
According to WHO and NSW Health:4,5
People can catch COVID-19 from others who have the virus.
The disease can spread between people through small droplets from the nose or mouth when an infected person coughs or exhales. These droplets land on objects and surfaces around the person, or may be breathed in by a person nearby. That's why it is important to stay more than 1 metre away from a person who is sick.
Other people can catch COVID-19 by touching infected objects or surfaces, then touching their eyes, nose or mouth.
The time between when a person is exposed to the virus and when symptoms first appear is typically 5 to 6 days, although it may range from 2 to 14 days. That's why people who might have been in contact with a confirmed case are being asked to self-isolate for 14 days.
Studies to date suggest that the small droplets from an infected person are too heavy to travel far in the air. They only travel about 1 metre before settling on surfaces. The virus can, however, last on surfaces anywhere from a few hours to several days (depending on the type of surface, temperature, or humidity of the environment).
It's possible for COVID-19 to spread regardless of the climate – hot or cold, humid or not.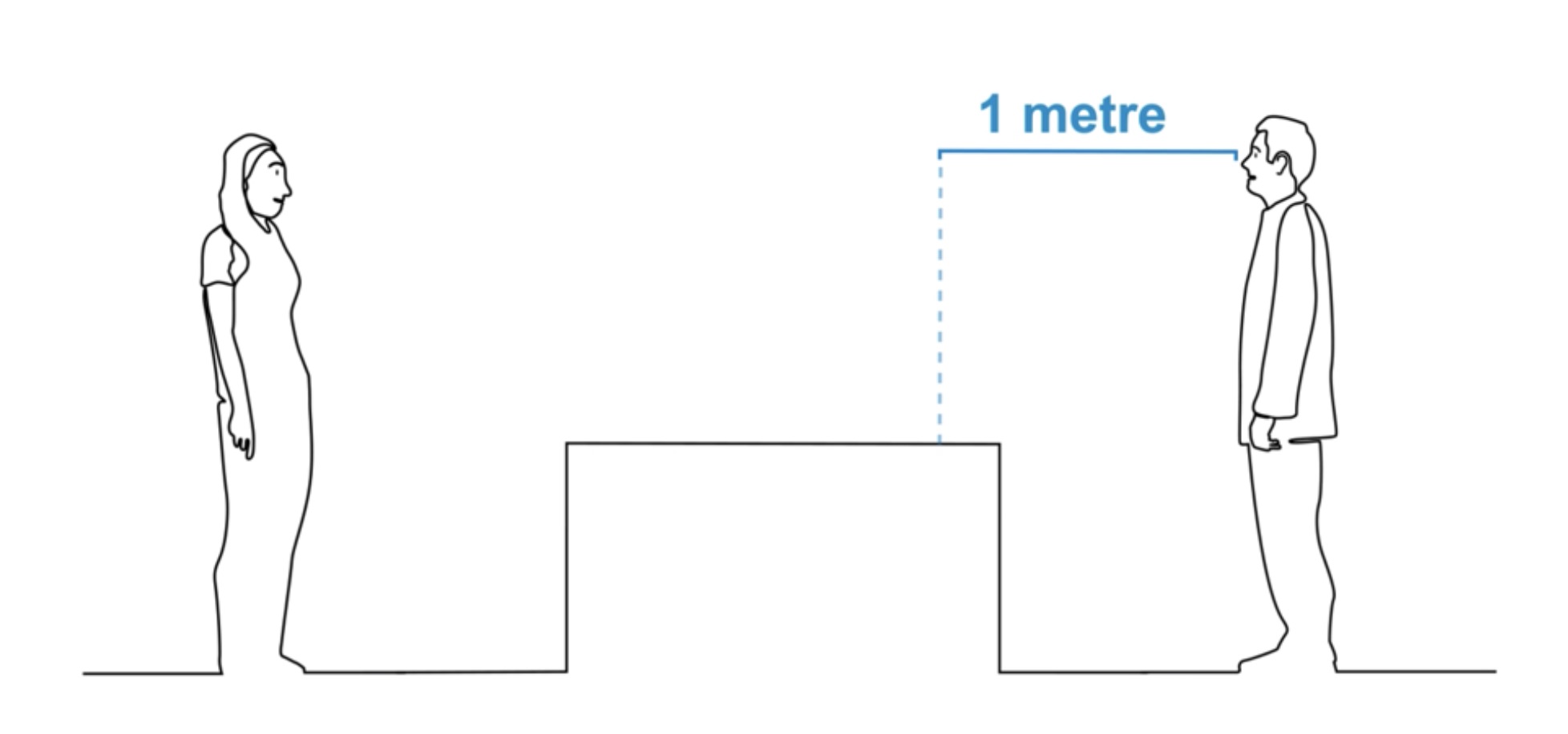 Droplets from an infected person only travel about 1 metre.
Image source: World Health Organisation
3. How long is a person with COVID-19 contagious?
The length of time a person remains contagious (can spread the virus to others) is not yet entirely known. However, some evidence suggests that a person can spread the infection from about a day before they first develop symptoms until up to one day after their symptoms are gone.6
4. How is COVID-19 tested and diagnosed?
People showing possible symptoms of COVID-19 are tested by their doctor (or other medical professional at a hospital) by taking swabs from the back of their nose and throat, or fluid from their lungs.3 These are then sent to public health labs for testing. Testing may also be done at specified private pathology labs.
If you need to be tested by your doctor or at a private pathology lab, call ahead to let them know you have symptoms.
Find out specific testing information for your state by visiting your state government health website.
Test results will usually be processed within one day, but it may be longer depending on where your test was done and how quickly it was delivered to the lab.3
5. Can anyone be tested, even without symptoms?
According to the Australian Government Department of Health,7 you will only be tested if your doctor decides you meet the criteria:
You have returned from overseas in the past 14 days and you develop respiratory illness with or without fever.
You have been in close contact with a confirmed COVID-19 case in the past 14 days and you develop respiratory illness with or without fever.
You have severe community-acquired pneumonia and there is no clear cause.
You are a healthcare worker who works directly with patients and you have a respiratory illness and a fever.
There is a global shortage of the test kits used to diagnose COVID-19. This is why Australia is doing targeted testing instead of widespread testing. However, these criteria may change as more testing kids become available or alternative ways of testing are developed.
6. How can we best protect ourselves and stop the spread of the virus?
The best way to protect yourself is to:4,5,8
Make sure you wash your hands regularly and thoroughly for at least 20 seconds with soap and water, or an alcohol-based hand rub.
Cover your nose and mouth when coughing and sneezing with a tissue and dispose of it immediately. If you don't have a tissue, cough or sneeze into your elbow.
Avoid close contact with anyone with cold or flu-like symptoms.
Practice social distancing by staying at least 1.5 metre away from others.
Avoid touching your eyes, nose and mouth.
Stay home if you feel unwell.
When it comes to masks, only wear one if you're sick with COVID-19 or looking after someone who has it.4 Disposable face masks can only be used once. There is a world-wide shortage of masks, so use them wisely.

Image source: Australian Government Department of Health
7. What should you do if you have COVID-19 symptoms?
If you have severe difficulty breathing, call 000 immediately and tell the call handler and the paramedics on arrival about your recent travel history and any close contact with an infected person.
To find out if you need to seek medical help, use this:
If the Symptom Checker tells you to seek medical help, you must call ahead before visiting your doctor or the hospital emergency department, to describe your symptoms and travel history.
You'll be asked to take precautions when you attend for treatment, so follow the instructions you're given.
For more information about COVD-19, you can also call the Australian Government's National Coronavirus Helpline on 1800 020 080. The line operates 24 hours a day, 7 days a week.
8. Is there anything you should not do?
The following actions are NOT effective against COVID-19 and can be harmful:1,2
Smoking
Wearing multiple masks
Taking antibiotics. Antibiotics treat bacteria not viruses, therefore they are not effective for treating COVID-19. In some patients who develop pneumonia, however, secondary bacterial pneumonia can occur, in which case antibiotics will be used.
9. What are trusted sources of information about COVID-19?
There are a lot of smart and qualified people working on and writing about COVID-19, but there's also a lot of noise and misinformation. Here are the trusted sources we recommend:
Your state government health website:
We hope you stay safe and well in these trying times!
The Mosh Team.
This information is not intended to be a substitute for professional medical advice, diagnosis, or treatment. It should never be relied upon for specific medical advice. If you have any questions or concerns, please talk to your doctor.
Guidance provided here is subject to change as the COVID-19 virus progresses.